Česky

HTGEN

-

H

opfield

T

riangle Strip

GEN

erator HTGEN is an ANSI C program for generating triangle strip representations of triangulated surface models on the basis of a method introduced in

As an example, a stripification provided by HTGEN of the well-known triceratops model is shown in the following picture.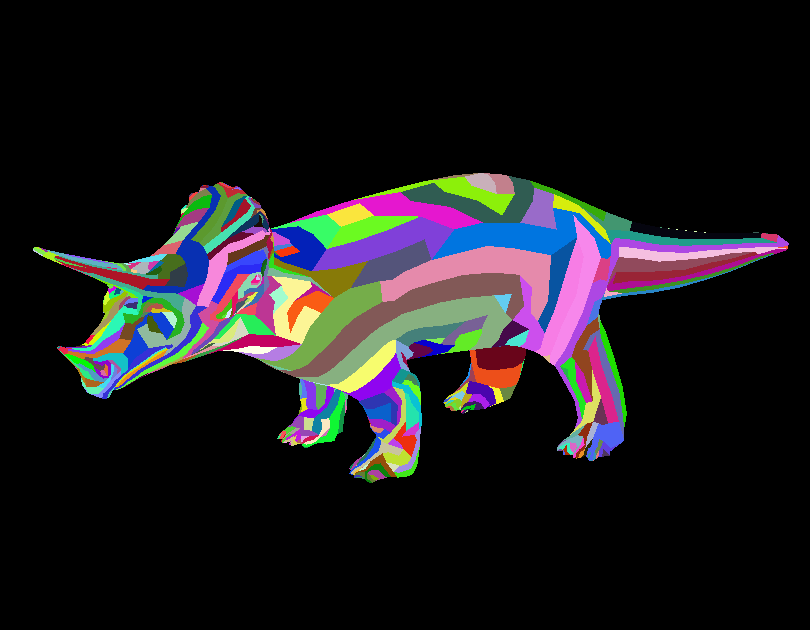 Download and installation
Download and expand the file

htgen-src.zip

. Move the resulting folder to your preferred location.
Descend into the HTGEN source directory and run make:


	cd your-location/htgen-src/
	make


This will create the executable named

htgen

.
Run

htgen

to perform stripifications, see below for the correct syntax.
Usage of HTGEN
The syntax for running HTGEN is as follows:
./htgen | ./htgen <input obj file> <output objf file> [<number of trials> [<initial temperature> [<stopping criterion>]]]
The optional parameters control the simulated annealing used for the computation, their default values are 10, 10, and 0.3, respectively. The stopping criterion is the maximum percentage of unstable units that still results in terminating of the computation.

Running ./htgen without any parameters causes HTGEN to write a short information on correct syntax.